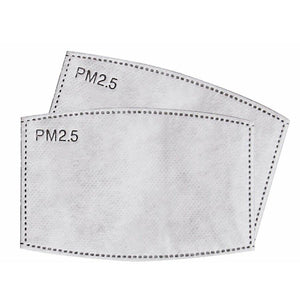 Replaceable filters for our adult masks are now available for sale. Made of activated carbon and non-woven melt-blown filter cloth, this filter system effectively keep away from PM 2.5 and a range of airborne contaminants. Compatible with our Replaceable filter masks and other masks of similar masks. Replace once or twice a week depending on usage. 
Approx. 4.7'' x 3.1''

Activated Carbon

Melt-blown filter cloth
Non-washable

comes in the pack of 5 filters. 
Shipped within 3-5 business days.